Color Coated Aluminium Coil

Detailed introduction
Our company use the south-west and Ruimin aluminium as raw materials,The pre-treatment agent use Henkel and Chemetall from Germany. The paint use PPG brand paint from USA, BECKER brand paint from Sweden, TIGER brand from Austria,AKZO brand from Holland.
We have introduced the latest fluorocarbon film technology from Germany and can provide 20 years quality assurance.In particular,Made a comprehensive quality assurance for the disadvantages of the thermal transfer and color roll coating is not weather resistant.For stone pattern color and wood color and other color coating aluminum coil ,aluminum composite panel used in in exterior wall decoration,the quality is excellent and more reliable.

We can provide the thickness from 0.026mm to 1.5mm, the width less than 1620mm and various grade alloy, our raw materials that compliments your products.
process flow

specification
Polyester (PE) paint roller coating color coated aluminum coil
Fluorocarbon (PVDF) paint roller coating color coated aluminum coil
Epoxy paint roller coating color coated aluminum coil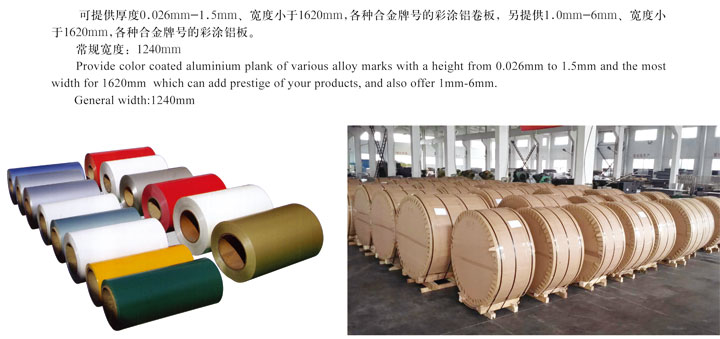 Feature
Ultra-weatherability
Superior super weatherability, ultra resistant corrosion and pollution resistance, withstand extreme climate conditions, without the influence of ultraviolet radiation and temperature, and compared with other coating is not easy to fade, eternal look fresh.
Made ligh
The weight of pure aluminum sheet is 40% lower than other metal plates, and it is easy to carry and reduce the cost.;
Superior construction
Easy cutting, cutting, planing groove, bending into a circular, rectangular shapes and is made of common metal or wood processing tool can make changes in a variety of shapes with the designer;
The uniformity of surface coating
Due to its surface coating using roller coating technology, compared with other materials used in powder coating, the surface coating is uniform, consistent and thickness control more easily;
Formation、easy maintenance
Plank flat, smooth surface, no distortion, no deviation, use water or neutral gentle cleanser, can make the plate like new permanently.
Colorful, bright colorful
Routine for 60 color choose, adjustable other colors. At the same time can produce grain, such as post grain mixed color. Can choose coating types are: fluorine carbon, polyester, acrylic acid, food grade paint.
Customize special colors
If you need to order a special color of Daou companies color coated aluminum, you need to follow the following steps to the operation:
1, the first need to provide a sample of the required color (preferably with a metal plate as the substrate template, other material sample can also, but the accuracy rate is not as good as the metal plate template).
If you know that a desired color paint manufacturers color or the international standard color the operating procedure will be very simple, color matching results will very accurate, only need to provide the color number to my company's color experts give can be identified;
2, a new color sample by dual Euler company paint experts and our paint pigment supplier co formulated, under normal circumstances need about a week's time can provide you with a new color model;
3, you receive a sample after the need to give a written confirmation as soon as possible, after receipt of your confirmation, we will be in accordance with the order of the formal arrangements for the production of orders.
Application
Mill finish aluminum coil after washing, chromium, roll coating, baking, etc., the aluminum coil surface with a variety of color of the paint coating, color is coated aluminum roll.
Color aluminum due to its light weight, bright color, easy processing, do not rust, and advantages, is widely used in aluminum composite panel, honeycomb panel, insulation board, aluminum curtain wall, window blinds, roller shutters, roofing system of aluminum magnesium manganese, aluminum ceilings, household appliances, gutters, aluminum cans etc. many domains.
Pre:Aluminum Veneer
Next:Aluminium Coil/Sheet